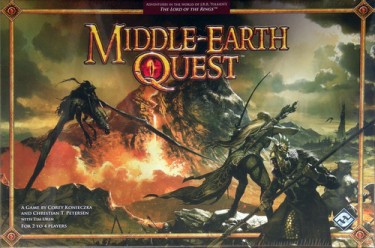 Middle – Earth Quest is settled in the fictional world of J.R.R. Tolkien.  It's a semi cooperative game for two to five players where one player controls Sauron and his minions and the others heroes of the free people. Note that you won´t play Gandalf or Legolas or these famous guys….you´re more the everyday elf .
There are different ways for Sauron to win. By controlling armies, by corrupting leaders of the free people and by gaining the ring. He will get a secret goal at the start of the game. Heroes try to prevent him from accomplishing his goals and finally fight one of his minions in an epic battle.
Sauron plays plot cards to push on to his goal. One card might for example allow him to corrupt Saruman. As long as this card is now in play, he'll get points on his corruption track. The players can remove these card from the game by fulfilling certain conditions, usually travelling to a specific location and discarding "favour" tokens there.
Gaining these tokens is not that easy too. Players might for example get them by visiting non player characters or having other highly thematic encounters on specific locations.
Traveling and fighting is card driven. Cards are also used as life points, wich makes card management a key factor of the game.
The components are fantastic: Minis are great, the art is beautiful and the board is a huge and beautiful map of Middle – Earth.
There is no official solo variant for this, but I'm working on an A.I. for the Sauron player.
.